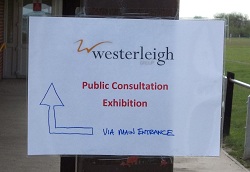 FOLLOWING our reports on dumbles.co.uk about the proposed crematorium on Catfoot Lane, Lambley, we have been contacted by a planning consultant for Westerleigh.
Matt Hubbard, principal planner at Basford-based town planning and development consultant Antony Aspbury Associates, tells us that one element of our report "could be quite misleading and worrying to your general readers".
Our article on 27 April 2012 reported that:
Gedling Borough Council already lists a planning application, which was filed a week ago on 20 April 2012, for "Proposed Crematorium and Cemetery for Gedling, Catfoot Lane, Lambley EIA Screening Land North Of The Lighthouse Catfoot Lane Lambley Nottinghamshire"
Mr Hubbard writes to tell us that:
"This is NOT a planning application. We have had to write to the Council (the submission was nothing more than a letter and a site plan) in order that the Council can make a decision as to whether to 'screen' the development for an Environmental Impact Assessment (EIA). The Council has 21 days to do this. The development DOES NOT constitute EIA development, but it is up to the Council to assess this and advise accordingly before we can take any further action."
He goes on to say that "from the many questionnaires that we have had returned, there appears to be a reasonable level of support for the proposals. Many people have commented that, despite attending the meeting with a negative viewpoint, many of their questions were answered and left the meeting in better knowledge of the proposal and the processes that have to take place in the build up to the submission of a planning application".