Formed in 1982, Woodborough Horticultural Society is a thriving and happy village organisation always ready to welcome new members.  Are you interested in gardening, growing flowers and vegetables, learning new ideas, going on trips and exchanging tips with other like-minded souls?
Annual individual membership is currently just £5.00. There is a also a one off joining fee of just £1.00, but no additional charges for members at talks.
Why not some along and join us at one of our meetings?  Details of dates are below. Talks are usually on the 2nd Monday of the month and are held in the Village Hall, starting 7:30pm.  We also have four shows a year, social events, and trips and visits.
If you are not a member yet, mention dumbles.co.uk for one free entry to a talk in 2015 (guests usually pay £2).  Why not see if you like what we offer, then join the society?
WHS receives sponsorship from some local businesses.
Its web page is http://www.woodboroughhortsoc.org.uk/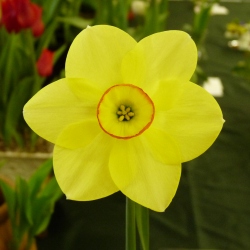 Programme 2015
Monday 12 January
Tracey Akehurst: "Good enough to eat"
Monday 9 February
Sophie Timmermans-Delves: "It's not a bed of roses"
Monday 9 March
David Thornton: "Fertilisers for the garden"
Saturday 11 April
Spring Show
Monday 11 May
John and Gail Summerfield: "From crewyard to courtyard"
Monday 8 June
Evening Visit to Park Farm, Southwell
Monday 29 June
Rose Aand Summer Flower Show
Saturday 11 July
Day Visit to Sheffield Botanical Gardens
Saturday 5 September
Autumn Show
Monday 12 October
Annual leek and onion show and, plus John Gibson: "Tulip time"
Monday 9 November
AGM, plus Mo Cooper: "St. Anns Allotments:Nottingham's Unique Heritage Gardens"
Monday 14 December
Christmas Social
Guests are welcome and will be asked to pay £2.00 entry fee.
Committee meetings 2015
19 January
16 February
16 March
20 April
18 May
15 June
20 July
21 September
19 October 19
16 November 16
21 December (informal)
Committee meetings are held in the Institute, Roe Lane, 7:30 p.m.
Officers 2015
Chair………Rod Hirst
Vice-Chair….. currently vacant
Secretary….Jean Parrott……..07704 809741
Treasurer…..Inga Filmer
Committee 2015
Pat Berrisford
Stella Bush
Marie Grundy
Jill Hicking
Heather Kirk
Malcolm Lewis
Pat Robinson
Auditor 2015 PS Kirkland