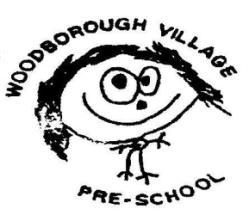 _______________________________________________________
Woodborough Village Hall, Lingwood Lane, Woodborough NG14 6DX Tel: 0115 965 5895
email: woodboroughpreschool@btinternet.com
http://woodboroughpreschool.co.uk/
Supervisor: Andrea Wright
Deputy Supervisor: Celia Robinson
Assistants: Sheila Middup, Cindy Bamford, Jo Buckle, Liz Stredder, Louise Parris, Sarah Standford, Kay King
Monday, Tuesday, Thursday, Friday 9.15am – 3.30pm

_______________________________________________________
For over 30 years Woodborough Village Pre-school has welcomed children from local villages and towns. We are a community group with charitable status managed by the parents of the children attending the group. Each year a committee is elected to administer and be responsible for the policies and practices of the group. However, we value every parent's ideas, help and involvement throughout their child's time at pre-school.
Experienced staff, headed by a supervisor, runs the sessions. The children are encouraged to select their own activities and move from one to another as they choose. A wide range of activities and learning opportunities is on offer each session. These have been carefully planned by our supervisor to ensure a tailored curriculum for every child. The sessions incorporate planned singing and dancing, outdoor play (weather permitting) and story time.
We are members on the Pre-school Learning Alliance and of Nottinghamshire County Council's 'Early Years Development and Childcare Partnership'. Both these help carer's and practitioners understand and provide for the needs of young children. We are OFSTED registered to provide sessional day care for up to 30 children each day. Ofsted inspection reports are available to view (on this page).  The last report was dated 14 March 2011.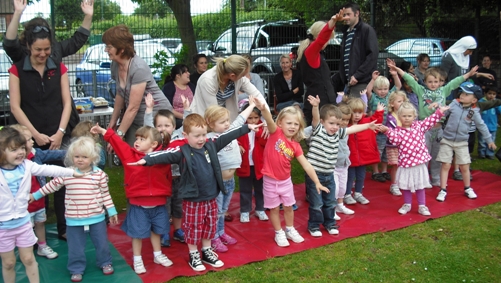 Fees
Three- and four-year old children qualify for government funding for 15 hours per week . Additional sessions are charged at £3.25 per hour to cover costs.
Lunch Club is also available, 12.00noon – 1.00pm, at a cost of £3.40


_______________________________________________________
Events
Woodborough Pre-School holds a number of regular events, including an annual pancake race (pictured below), farm trips, a sports day in July, an annual summer fair in early July, our autumn walks where the children are taken out to explore the surrounding area and experience the changing seasons, a sponsored welly walk in October, and a Christmas party with lunch, an entertainer, and a visit from Santa.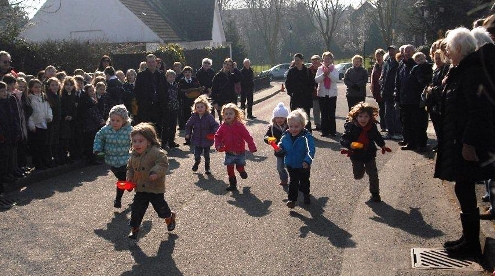 _______________________________________________________
Uniform
We do not have a compulsory uniform but Woodborough Pre-school polo shirts, sweatshirts and summer hats are available to buy. Please ask a member of staff.
Refreshments
Each session children are encouraged to sit down and enjoy a named carton of semi-skimmed milk or water and a healthy snack. Plain drinking water is always available throughout the sessions.
Admission Policy
It is our intention to make pre-school genuinely accessible to children and families from all sections of the local community. Children will be offered a place for the half term they turn 2½ years of age. If demand is high, the offer may initially be limited to one day per week.