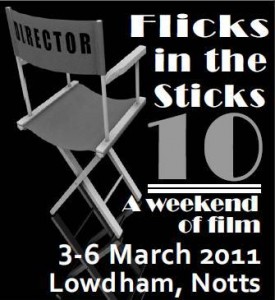 SOME OF the latest Hollywood blockbusters along with a classic black & white movie makes up the programme for the tenth anual Flicks in the Sticks film weekend in Lowdham, running from 3-6 March 2011. Organised by Jane Streeter and Ross Bradshaw of Lowdham Festivals and the Bookcase, the event also includes a film quiz, a lecture on the films of Alan Sillitoe, and a reflective consideration of Nottinghamshire on Film.
The weekend opens with a Film Night Quiz at the Old Ship Inn on Thursday 3 March, providing an opportunity to test your film knowledge – and also to sample the Flicks birthday cake.
On Friday 4 March, Lowdham Village Hall is the venue for a showing of one of the year's most talked-about films. The King's Speech stars Colin Firth and Helena Bonham-Carter, and is widely tipped for multiple awards at this season's Oscars – which will be announced less than a week before this screening. The movie gets a second showing on Sunday 6 March.
Among the other movies are The Water Horse, shown in memory of author Dick King-Smith, the special-effects spectacular of Harry Potter and the Deathly Hallows pt1, and the latest 3D version of the classic Gulliver's Travels. The film festival also includes the modern remake of Brighton Rock with John Hurt and Helen Mirren, the cold war black and white epic The Spy Who Came In From The Cold, Tamara Drewe, and Never Let Me Go.
Movies will be shown in full blackout in Lowdham Village Hall, and the organisers recommend that cushions are brought for increased comfort. See the full programme here.