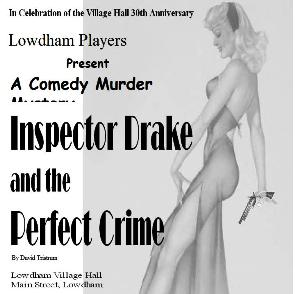 LOWDHAM PANTO is bringing a special production to the village in early June, to celebrate the 30th anniversary of the village hall. Inspector Drake and the Perfekt Crime promises to be a light-hearted take on the crime detective genre, and might contain one or two saucy bits.
When a murder is committed, it appears perfect – but is it foolproof? The legendary Inspector Drake faces his greatest challenge, attempting to unravel a plot with more twists than a really twisty thing. Who is the mysterious Doctor Short, and why did he marry a warthog? Has he murdered his fourth wife – or did she murder him first? And why is there a lamppost in the living room?
These are just some of the questions facing the world's most famous dick, as he gropes for the answer to the perfect crime, groping some of the suspects along the way. Lowdham Players warn that there are some adult themes in this production, which will be performed on 1, 2, 3, and 4 June at Lowdham Village Hall, curtain up at 7.30pm.
Tickets are £5 (£3.50 concessions) and are available from The Bookcase, 50 Main Street, Lowdham.