A BAND described as England's most dynamic fiddle line-up is making a stop in Lowdham as part of its 19th consecutive national tour. Playing at Lowdham Village Hall on 14 April 2012, Feast of Fiddles is an 11-piece collective including some famous names from the music business.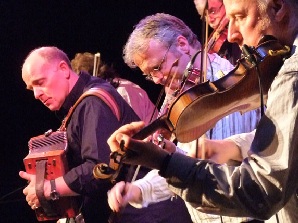 Band members include Chris Leslie of Fairport Convention, Peter Knight of Steeleye Span, Ian Cutler of Bully Wee Band, and Brain McNeill of Battlefield Band. The backing band is no less eminent, led by Hugh Crabtree on accordion and iconic folk-rock drummer Dave Mattacks, who has played with Fairport, Steeleye and Richard Thompson as well as the likes of Paul McCartney, Elton John and Chris Rea.
Audiences should be prepared for anything, says the promoter, from traditional folk numbers to Deep Purple; Fairport standards to The Shadows and theme music from James Bond to the Magnificent Seven.
The YouTube video below gives a taste of the band.
UPDATE 9 APRIL 2012: This event is now SOLD OUT, and the promoter has opened a waiting list for returns