LOWDHAM Post Office has been a hub of activity this morning (Monday) as villagers come to admire its new gold post box.
Painted on Sunday, the box celebrates the achievement of local athlete Richard Whitehead, who took the gold medal and broke his own world record in the 200m T42 race in the Paralympics. His time was 24.38 seconds.
Whitehead, who races on blades, is the world record holder in three categories – 200m, half marathon, and marathon, for double amputees. In 2009 He became the first amputee to complete a marathon in under three hours.
His athletic achievement this week is also marked by a special postage stamp. Royal Mail says the stamp will be available within five working days and will be on sale at the Post Office in Queen Street, Nottingham. We don't yet know whether it will also be available to purchase in Lowdham.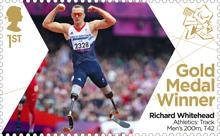 Outside the post office this morning, people gathered to admire the gold box and reflect on the local man's success. One child came dressed in Team GB kit and with a medal, to be photographed beside the village's new landmark.
Whitehead is also competing in the Men's 100m T42 race. The first round is scheduled for Friday 7 September at 10.12am, in the Olympic Stadium. The final will also be held on Friday, at 21.00.