THE RECENT blockbuster movie The Hobbit, which has only just been released for general showing, will be Oxton Projection House's presentation on Saturday 13 April 2013.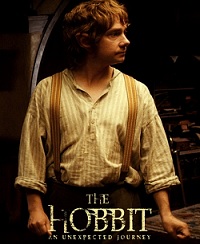 The Hobbit: an unexpected journey is the first in the trilogy based on Tolkein's book, prequels to the Lord of the Rings trilogy.
The Projection House team says this film is best viewed on a large screen in a cinema-like setting, as used for all the Projection House events. Rated 12A and starring Martin Freeman and Ian McKellen among others, it tells the story of Bilbo Baggins as he sets out on a journey to the Lonely Mountain, in the company of some dwarves, to reclaim their land from a dragon named Smaug.
A licensed bar and other refreshments will be available.
The film will be shown in Oxton Village Hall. Doors open at 5.30pm and the film starts at 6.00pm. This is quite a long movie, and there will be an interval. Tickets at £4 each for adults, £3 concessions, £2 children, and are available in advance from the Oxton Village Shop, Ethel Cottee on 0115 965 3477 or Roy Walker on 0115 965 3595. Tickets on the day, if available, will cost £1 extra.