WOODBOROUGH Horticultural Society wants to say a big 'thank you' to everyone who attended its Spring Show earlier this month. Although number of entries was down on previous years (something to do with the cold weather, perhaps?), the society says it was very pleased with the event. There was an especially healthy turn out in the afternoon when the show opened to the public.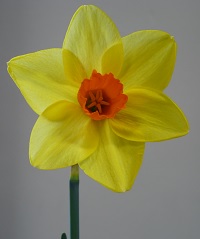 Along with representatives of the RSPB and the British Trust for Ornithology, Kelly and Anne Snowdon with their plant sales, tea and home-made cakes for sale, the whole show made for an enjoyable afternoon says the society.
Congratulations are offered to all winners and in particular the trophy winners: Margaret Allsopp, Mike Rowan, Jill Brown, Inga Filmer, Gail Pannell, and Abigail Robinson (aged 10). Marie Grundy and Rod Hirst won the special hyacinth and daffodil classes respectively.
The next WHS speaker meeting is on Monday 13 May 2013 starting at 7.30pm at Woodborough Village Hall – Patrick Harding with his presentation 'Food for Free. Members and non-members are welcome for what promises to be an interesting topic (non-member entry fee is £1).
Coton Manor Gardens in Northamptonshire will be the destination for the WHS day visit on Saturday 8 June 2013. Price per person is £16 including return coach travel and entry fee. The visit will be open to members and non-members on a first come, first served basis. Watch out for further information coming through your door (members), checking our noticeboard opposite the St Swithin's or here on dumbles.co.uk.
The photograph competition at the society's Autumn Show in early September will be on the theme of 'The place where I live'. This can be interpreted any way you like, but final print size must be limited to 7×5 inches.
Trophy winners at Woodborough Spring Show 2013
Over 100 entries were received despite the appalling growing conditions this year
Section 1 – Narcissi
A.E. Foster Memorial Cup (most points in section 1 narcissi): Margaret Allsopp
Four Bells Cup (winner of class 1.35 – collection of 6 cultivars): Margaret Allsopp
Daffodil Society Medal (best bloom in section 1 narcissi): Margaret Allsopp
Daffodil Society Diploma (best collection in section 1 narcissi): Margaret Allsopp
John Allison Trophy (highest points by member who has not won in this section for three years): Mike Rowan
Section 2 – Primulas
Textile Finishing Cup (most points in section 2 primulas) : Jill Brown
Section 3 – Other Flowering Plants
The Intermotor Cup (most points in section 3 other flowering plants): Inga Filmer
Section 4 – Children
The Woodborough Village Garage Cup (under 10 years): not awarded
The Burgess Trophy (under 14 years): Abigail Robinson
Section 5 – Floral Art
The Tallon Construction Cup: Tie: Gail Pannell And Margaret Allsopp
The DR Nind Trophy (most points in show): Margaret Allsopp
Members' Special Classes: Hyacinths (Mynos) Marie Grundy; Daffodils (Filly) Rod Hirst