WINTER may be reluctant to retreat this year, but the unseasonally cold weather has not stopped Woodborough Tennis Club from looking forward to the long days of summer and promoting its membership packages.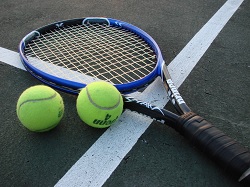 The club's courts, behind the village hall on Lingwood Lane, are open 365 days a year. They can be used by club members for free, once the annual subs are paid.
The club likes to emphasise the fun side of the game, with its pleasant village setting and social atmosphere. Membership is open to residents and non-residents alike, and to players at all levels. Each year the club organises friendly tournaments and social activities such as barbecues.
A special offer on membership fees gives reduced rates before the end of April. Family membership is £50 (rising to £55 on 1 May), adults are £30 (£32), and juniors/unwaged/retired £18 (£20).
Application forms are available at Woodborough Post Office. For further information about joining, or details on events, please phone the club on 965 2915 or 965 2070 at any sensible time.