Woodborough Horticultural Society reports that its spring show in April 2015 saw entries up and a healthy turnout of visitors.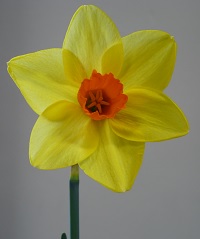 Class winners and trophy winners were: Lyndon Clements, Margaret Allsopp, Mike Rowan, Jill Brown, Inga Filmer, Phil McCann, Jill Hicking, Lynette Helmore and Freddie McCann (in the under 10s section). Wendy Kirkland and Jill Hicking won the special hyacinth and daffodil classes respectively.
Speakers at the next meeting, on Monday 11 May at 7.30pm in the village hall, are John and Gail Summerfield with their presentation 'From crewyard to courtyard'. Non-members are welcome but pay £2 per person.
The society's page on dumbles.co.uk has been updated and includes dates for visits to Park Farm Southwell and Sheffield Botanical Gardens on Monday 8 June and Saturday 11 July respectively.
The society's photograph competition at the Autumn Show on 5t September will be on the theme of a hanging basket or plant container. Further information from Heather Kirk 965 2181