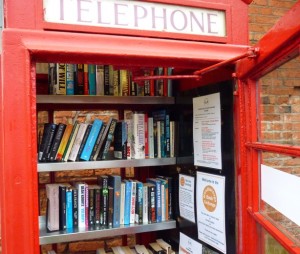 AN OLD TELEPHONE box in Woodborough has been transformed into a community book exchange. Opened this week, the Woodborough Book Exchange enables people to take a book to read, to donate books, or return books when they have been read. As a notice inside the phone box reads: There are no rules.
The idea for the Book Exchange was presented to Woodborough Parish Council in July 2010 by Catherine Pennington, who volunteered to manage the resource if the council would fund the shelving. This was agreed in December and the old BT phone box has now been officially re-opened as a kind of co-operative community library. The opening event was shown on the BBC East Midlands Today news programme on Wednesday 16 March.
The Woodborough Book Exchange is located on Main Street Woodborough, roughly opposite Pinfold Close, and is partially hidden to those travelling eastwards (I drove straight past when looking for it – Ed).