SUNDAY 6 May 2012 sees the return of Cowslip Sunday, Lambley's ancient and now world-famous celebration of springtime and its native flower. Event organiser David Longford, director of the Lambley Arts Festival, tells dumbles.co.uk that this year's festivities will be bigger and better than ever, despite some last minute changes forced by the weather.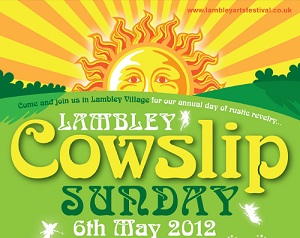 Most significant of these is the relocation of Farmer Dickie's stage away from the school field and onto the car park behind Lambley Village Hall. After the wettest April in recent history, the school field is so sodden that any attempt to move vehicles onto it would cause substantial damage and create even more mud.
The stage is the venue for the centrepiece of the Cowslip Sunday celebrations, the open-air play. Latest forecast for Sunday is a mild but overcast day, with afternoon temperatures of 10C and gentle winds (a marked contrast from last year's brisk but bright weather).
The move to the car park means that parking space will be more restricted than usual, and visitors are asked to find spaces elsewhere – or to find alternative ways of reaching Lambley.
Proceedings kick off at noon, with the opening of the Cowslip Arts and Crafts Fair in the village hall. 14 stands here will offer visitors a spectacular array of quality items for sale, from sweets to lampshades.
Youngsters will enjoy the traditional Punch and Judy shows scheduled for 1.15pm and 4pm, and the facepainting that will take place throughout the afternoon.
The Cowslip Procession through Lambley will start from the village hall at about 2pm, making its way south on Spring Lane and then around Cromwell Crescent, returning along Main Street to Church Street, Orchard Rise, and back to the village hall.
At about 2.45pm the play begins: Lambley Jack and the Golden Stockings is a local reworking of an ancient folk tale, involving the stocking industry, fairies, a pantomime dame, and even a guest appearance by a king of France. Look out for the Antler-Heads, the modern reincarnation of the ancient spirits of Sherwood and the perpetrators of some of the worst folk dancing seen north of the Trent.
The play lasts about 45 minutes, but festivities will continue. Throughout the day the innovative Poetry Seen installation will enhance the dumbles to the west of the school field, and the Art and Craft Fair continues until 5pm. Evening entertainment takes the form of the Cowslip Ceilidh, starting at 7.30pm in the village hall. This is the only charged-for event of the day, at £4 adults and children free, tickets on the door.