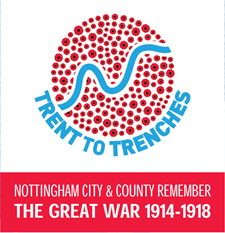 As the country commemorates the centenary of World War One, Nottingham artist Joy Pitts invites you to remember those in your family past or present who have served or are serving in the Armed Forces. Joy will provide all the materials for you to hand-sew their name(s) onto a strip of cotton tape which will become part of an art work on canvas depicting a pair of military boots.
During World War One it was common for both men and women to sew; repairing clothing at home and in the trenches, embroidering messages to send to loved ones and sewing bandages. This project recalls these activities and invites you to make your own hand made acknowledgement to those who serve.
To take part request your stitch pack by entering your name and address via the contact page www.joypitts.co.uk/contact.php (or click on the Trent to Trenches image, right). Your pack will be posted to you and includes a SAE for return to Joy.