The new Gedling Country Park officially opens on Saturday 28 March 2015, with a day of ceremonies and performances.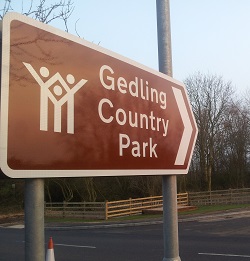 Built on the site of the former Gedling Pit, the park covers about 100 hectares (240 acres) of open space with footaths and wildlife sanctuaries.
The opening day's activities start at 10.30 with an official ribbon-cutting by the Mayor of Gedling at 11.00am. Activities of offer include arts and crafts, nature discovery with includes wild flower planting and pond dipping, sports and fitness including orienteering, heritage and art trails, community choirs, and refreshments. Newstead Brass Band will play.
The main entrance on Spring Lane Lambley provides access to the car park, but space here is limited and priority is given to those with mobility problems. This Gedling Borough Council web page has travel information.
The editor of dumbles.co.uk, Russ Swan, will be acting as master of ceremonies throughout the day, so please come and say hello and tell us what you think of the development.