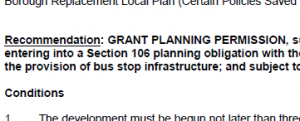 GEDLING Borough Council planning officers have recommended approval of the latest Westerleigh proposal to build a crematorium on Catfoot Lane, Lambley.
The reanimated scheme will be decided upon by the council at its meeting on 3 June 2015. Significant local opposition is expected.
The planned crematorium has had a complex history, having been initially proposed as a crematorium and cemetery by Westerleigh in 2012. This was followed by a rival plan by competitive undertaker AW Lymn for a crematorium only, also on Catfoot Lane.
The Westerleigh proposal was granted planning permission in May 2013, while the Lymn scheme was rejected at the same time. Residents formed an opposition group to challenge the decision, and in the High Court succeeded in having the Gedling Borough Council decision quashed in March 2014.
The council and the developer took the case further, to the Court of Appeal, and the decision to quash the planning permission was upheld in January 2015.
Westerleigh then removed the cemetery element of its proposal and again asked Gedling Borough for planning permission. The resurrected application was reported here on dumbles.co.uk in April 2015, and last week it emerged that the date for the decision had been set for 3 June 2015. The opposition group has circulated letters in the village this last weekend.
Today's news is that the planning officials at Gedling Borough Council have recommended that the planning committee grant approval to the scheme. The recommendation document (PDF) can be viewed on the GBC website here.
We understand that committee members have been invited to attend a 'technical briefing' on the proposal on Wednesday 27 May 2015 at the Gedling council offices. Members of the public are also invited to attend this briefing, at 4pm.