The farmer at the centre of the Woodborough wind turbine controversy has been nominated for a national conservation award.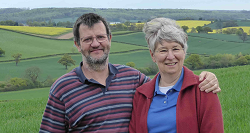 Woodborough Park Farm's owners John and Cathy Charles-Jones are among the five finalists for the Farming and Wildlife Advisory Group's (FWAG) Silver Lapwing Award. The winner will be announced on Wednesday 3 June 2015.
FWAG says the finalists were selected for "demonstrating outstanding commitment to good environmental practices, alongside the production of food".
Woodborough Park Farm occupies 240 Ha (600 acres) to the west of Woodborough, and attracted controversy for its installation of a 66.5m-high wind turbine. Objectors pointed out that the land is green belt, and despite the planning department acknowledging that the turbine was 'inapproproriate industrial development' the turbine was granted planning permission in 2011 and erected in early 2014.
Local action group WACAT appealed against the granting of planning permission. In June 2013 the High Court rejected the complaint, but in May 2014 the Court of Appeal overturned this ruling and quashed the planning permission (PDF 244kb). The turbine remains in place.
FWAG provided a favourable environmental assessment of the project, which was submitted as part of the planning application. John Charles-Jones was at that time chairman of FWAG's local branch, as well as serving on Woodborough Parish Council.
The Farming and Wildlife Advisory Group says it "helps British farmers by providing trusted, independent environmental advice". Its Silver Lapwing award is sponsored by the supermarket Waitrose.