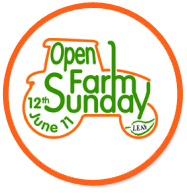 THE FARM at the centre of the Woodborough wind turbine controversy, Woodborough Park Farm, is taking part in Open Farm Sunday this weekend, 12 June 2011. Across the country, hundreds of farms are opening their gates to the public to show how agriculture works and food produced.
Woodborough Park Farm has this week had its planning application for a 67m wind turbine approved by Woodborough Parish Council, after a heated meeting in the village hall on Monday in which dozens of locals came to express their views on the issue. Our report on that meeting has generated several comments which, like the speakers at the parish council meeting, are divided between the pro- and anti- lobbies.
Open Farm Sunday at Woodborough Park Farm includes a guided tractor and trailer tour of the farm and the valley, lasting about 2-2.5 hours and departing at 10am and 2pm. Call 0115 965 4748 to book a place.