PROPOSALS to build a crematorium on Catfoot Lane in Lambley were met with almost universal disapproval at a public exhibition held yesterday. Cemetery developer Westerleigh held the exhibition at Mellish rugby club, distributing leaflets and showing how its plans would be put into action.
The company says that this was a preliminary display to gauge public opinion before deciding whether to submit a planning application. However, Gedling Borough Council already lists a planning application, which was filed a week ago on 20 April 2012, for "Proposed Crematorium and Cemetery for Gedling, Catfoot Lane, Lambley EIA Screening Land North Of The Lighthouse Catfoot Lane Lambley Nottinghamshire". [see below – Ed.]
Many details of the proposed crematorium and cemetery were revealed here on dumbles.co.uk this week, including the company's assessment that an average funeral attracts about 18 cars and that this would mean a maximum of 90 cars per day in off-peak times, with 125 cars per day only in exceptional circumstances.
For many at the Mellish exhibition, this was of no comfort. Several people expressed their unhappiness at the extra traffic on Catfoot Lane, which they pointed out is almost single-track in places. Others raised issues over erosion of the green belt, which has prevented many smaller domestic-scale projects from being permitted.
Among the new details to be learned at the exhibition were that the chapel would have a capacity of 90 seated plus 100 standing, that the car park would have spaces for 70 cars, and that a second cremator would be installed once the crematorium reached 1000 funerals per year.
Westerleigh's development director Adrian Britton told dumbles.co.uk that, if a decision was made to go ahead, a planning application would be submitted around July 2012, and that if approved the work on site would begin in spring 2013. The crematorium and cemetery would be open by the end of 2013, at a total cost of around £3-4 million.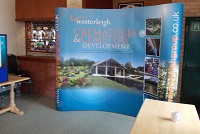 Managing director Richard Evans told us that the company would be willing to fund improvements to the junction of Catfoot Lane with the B684 Mapperley Top, adding "I really don't think it will have an impact on village life".
That sentiment appeared not to be widely shared among the locals attending the exhibition, who were widely opposed to the plan. According to the exit poll seen by dumbles.co.uk, 95% of attendees expressed opposition to the proposal with just 5% in favour or undecided.
UPDATE 3 May 2012: The planning consultant for Westerleigh, Antony Aspbury Associates, as contacted dumbles.co.uk with further information about the planning application mentioned above. See our article here.